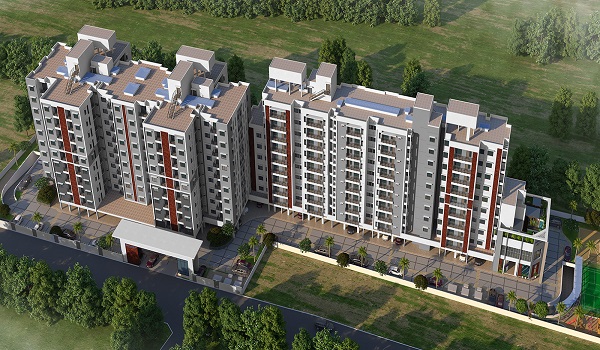 Provident East Lalbagh offers premium luxury apartments to the residents in a strategic location, Soukya Road. It is a perfect masterpiece with cutting-edge technology meant to provide relief and comfort to the customers.
Advanced designs: The project offers modern and advanced technology to provide great comfort to the residents.
Ample space: The project offers 2 and 3 BHK apartments, providing proper space so the residents won't feel suffocated.
Strategic Location: The project is located on Soukya Road, which provides easy access to any part of the city using proper modes of transportation.
Travel convenience: The project location offers easy access to all modes of transportation, including metro, rail, road, and airport.
Advantages of investing in Soukya Road
Soukya Road is perfect for those who want to stay amid greenery and are still well-connected to the city.
Increased rent: Investing in Soukya Road will provide good monthly rental income due to its proximity to Whitfield and other major IT and Tech parks.
Perfect Housing Option: The place is very suitable for housing because the place offers a greenery and serene environment, which provides comfort and positivity to the residents.
Developed Infrastructure: Due to the proximity to many IT and Tech parks, the place is developing rapidly and has a better infrastructure with proper and well-connected roads.
Variety of Projects: The place offers a variety of projects ranging from studios and apartments to independent houses and large parcels of land.
Advantages of Investing in Bangalore
Bangalore's real estate market is experiencing tremendous growth, driven by the IT sector, start-up culture, remote work, and infrastructure development. High-end office spaces and spacious homes are being built to cater to multinational companies.
Cultural hub: The city is mainly a mix of people from different cultures and traditions, so nobody will feel isolated in this type of community.
Premium lifestyle: The place offers a different vibe to the residents by providing many choices for entertainment and recreational activities.
Increased employment opportunities: The place offers greater employment opportunities to the residents, so people from various places try to immigrate to Bangalore
Property rate: Due to population growth, the city was experiencing a large hike in property rates, a visible change every year.
Well-organized connectivity: The place offers greater connectivity to anywhere through road, rail, metro, and air services. Cab and other travel options are also there.
Factors to consider for investing in Soukya Road
Soukya Road is a premium residential locality with all the basic amenities within reach and has a well-developed infrastructure. There are several things to keep in mind before investing in Soukya Road.
Location: Search and select a good location in Soukya Road; choose a location close to connectivity.
Infrastructure: Check thoroughly the infrastructure of the place which is investing; bad and poor infrastructure will directly affect the market value of the place
Seller: always buy property from trustworthy builders or people because a lot of fraud happens after paying a huge amount for property.
Paperwork: Check and verify all the documents and ensure all the legal procedures are done properly.
Terms and conditions: Go through the terms and conditions, if any are mentioned. All the pros and cons are usually mentioned in terms and conditions.
Advantages of Investing in Provident Housing Limited
Provident is one of India's leading real estate builders, started in 2008 as a subsidiary of Puravankara Group. The builder has created inedible marks in the construction history by providing quality and reliable services to the customers. They always did projects keeping in mind what the customer was expecting and tried to fulfill the needs and expectations of the customers. The builder has launched luxurious and affordable projects across nine cities in the country.
Affordability: The project provided by Provident Group is always meant for middle-class people at an affordable rate. Their projects are offered at a reasonable cost.
Luxury: Even if the builder provided affordable projects, they never compromised on luxury, and quality always provided maximum luxury in every project.
Sustainability: The builder has also considered the planet and environment, so they provided sustainable projects designed as eco-friendly.
Market value: The projects are always ventured into strategic locations with proper connectivity and infrastructure, which will give good market value to the property and will be a good investment option.