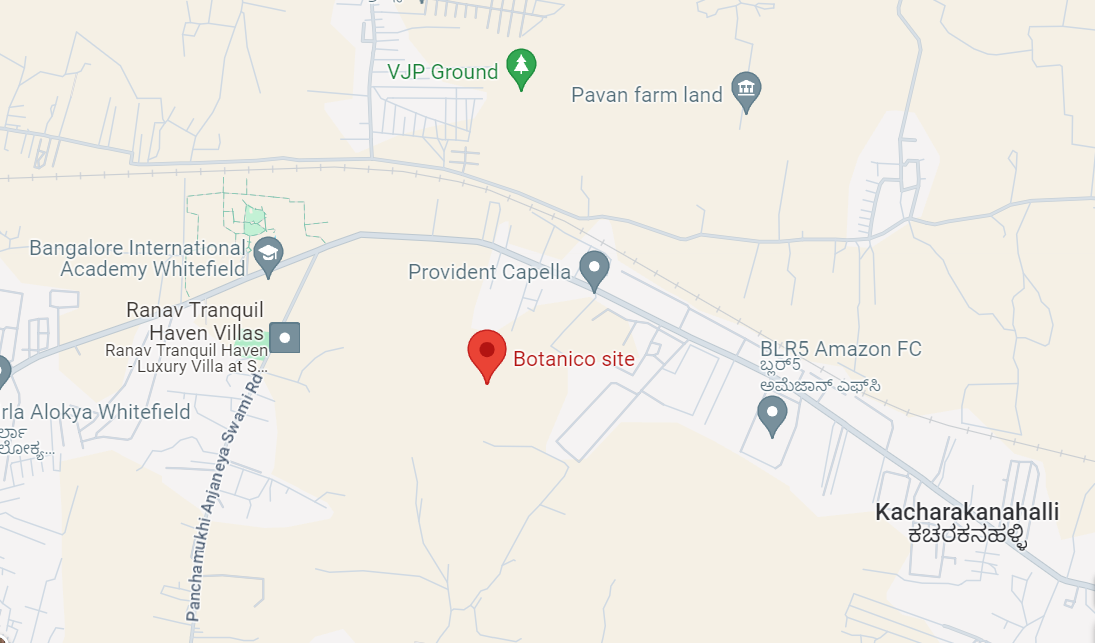 Location is a paramount consideration in real estate investments, and Soukya Road emerges as a compelling choice for prospective property buyers. Nestled within the neighborhood of East Bengaluru, Provident East Lalbagh stands as a testament to the importance of location in real estate. This residential development project occupies a coveted position in an area characterized by its exceptional connectivity, making it a prime address for discerning homeowners and investors alike. Its strategic location is one of its most attractive features. Beyond its excellent connectivity, this area boasts a thriving community with a rich social fabric. Residents can access many amenities, including shopping centers, restaurants, recreational options, and more.
Thoughtfully designed internal driveways and basements for convenient accessibility.
Comfortable living apartments with meticulous planning for enhanced comfort.
Standby DG sets to ensure a reliable power backup source.
Strategic use of solar energy in specific areas to promote sustainability.
Beautiful landscaping featuring trees, lawns, and blooming flowers.
Well-planned and designed rainwater harvesting facilities to harness rainwater effectively.
Efficient Sewage Treatment Plant to process domestic sewage in an eco-friendly manner.
A well-conceived solid waste management system for effective disposal and environmental sustainability.
Provident East Lalbagh, a prelaunch project by Provident Housing Limited, is poised to redefine comfortable living in East Bangalore's thriving Soukya Road locality. Comprising five towers, this apartment complex offers an array of 1, 2, and 3 BHK units with sizes ranging from 484 to 989 sq ft. With a total of 764 units, this development is set to transform the skyline. Anticipated possession starting from November 2027 onwards ensures an exciting opportunity for prospective homeowners, with prices commencing at an affordable 33.91 lakhs* onwards, making it an attractive prospect for those seeking quality living spaces in a vibrant and well-connected location.
About Bangalore:
Bangalore is a city that embodies progress, innovation, and a high quality of life. This vibrant metropolis boasts a multitude of positive attributes that make it one of India's most sought-after destinations. It is renowned for its robust IT industry, housing numerous tech giants and startups, creating a dynamic ecosystem of opportunities. Its pleasant climate is a year-round blessing.
Education flourishes here, with prestigious institutions like IISc and IIT Bangalore nurturing the minds of tomorrow's leaders. For culture enthusiasts, Bangalore offers a plethora of art galleries, theaters, and music venues, ensuring a rich cultural experience. Its lush green spaces and beautiful parks, like Lalbagh and Cubbon Park, provide a serene escape from urban hustle and bustle. The efficient public transport system, including the Namma Metro, simplifies commuting, reducing congestion and pollution.
Bangalore's real estate market is thriving, offering a range of housing options that cater to diverse preferences. The city is well-planned and offers a high standard of living with access to the best healthcare facilities, ensuring the well-being of its dwellers. Its residents are known for their warmth and welcoming nature, creating a sense of community and belonging.
Soukya Road
Soukya Road, nestled in the eastern expanse of Bangalore, is a rapidly emerging locality that encapsulates the essence of modern urban living. This vibrant avenue is marked by excellent connectivity, offering seamless access to key areas of the city. It enjoys a strategic position close to major IT and tech hubs, educational institutions, healthcare facilities, and commercial centers, making daily commutes hassle-free.
Soukya Road and Connectivity
Soukya Road is a testament to the city's evolving landscape and relentless pursuit of progress. This vibrant thoroughfare is characterized by its burgeoning real estate and impeccable connectivity, making it an increasingly coveted destination for homebuyers and investors. The road's proximity to significant IT and tech parks, including the Electronic City and Whitefield, has transformed it into a sought-after residential destination for professionals working in these tech havens.
This road's connectivity is not limited to the professional and educational spheres. It provides swift access to commercial centers, malls, entertainment venues, and shopping districts. This ensures residents enjoy a balanced lifestyle, with leisure and retail therapy never too far away. The ease of access continues with well-planned public transport. Efficient bus services and the Namma Metro, Bangalore's rapid transit system, simplify commuting further. This reduces traffic congestion and promotes a greener, more sustainable urban environment.
The area has seen a surge in real estate development, with numerous projects catering to diverse preferences. These include apartment complexes, gated communities, and integrated townships that provide various housing options to suit different lifestyles. The road's transformation into a thriving residential area is a testament to its impeccable connectivity, making it an attractive choice for homebuyers.
Project DetailsReal Estate Growth in Soukya Road:
Soukya Road is witnessing a remarkable surge in real estate growth, transforming into a bustling urban enclave that is capturing the attention of both homebuyers and investors. This rapid expansion can be attributed to strategic factors propelling this road into the limelight of the city's real estate landscape. This well-planned thoroughfare effortlessly links several key regions and hubs in Bangalore. It provides swift access to prominent IT and tech parks like Electronic City, Whitefield, and Sarjapur, making it an attractive residential choice for professionals working in these tech-driven corridors.
Soukya Road is also home to various esteemed educational institutions, from prestigious schools to renowned colleges and universities. These institutions include the Symbiosis Institute of Business Management and PES University, attracting students and academics alike. Residents of this area enjoy proximity to world-class healthcare facilities. Prominent hospitals and medical centers are within reach, ensuring that healthcare needs are well met.
The region has witnessed substantial infrastructure developments, including well-planned roads, efficient public transport, and other civic amenities. These improvements not only enhance the quality of life for residents but also bolster the overall real estate prospects in the area. Its real estate growth offers diverse housing options, from luxury apartments to gated communities and integrated townships. These developments cater to the diverse preferences of homebuyers, ensuring there's something for everyone. The availability of choice plays a pivotal role in this area's popularity.
About Provident East Lalbagh:
Provident East Lalbagh, an upcoming residential marvel by Provident Housing Limited, is set to redefine the concept of affordable luxury living in the heart of East Bangalore. This project is a testament to Provident Housing's commitment to providing top-tier homes that cater to a wide spectrum of homebuyers while maintaining the highest standards of quality and comfort.
One of the amazing features of this project is its strategic location on Soukya Road in East Bangalore. This thriving neighborhood offers residents the perfect blend of urban convenience and tranquility, making it an ideal place to call home. With connectivity to major IT hubs, educational institutions, healthcare facilities, and commercial centers, residents enjoy the ease of daily commuting while reveling in the serene surroundings.
Provident East Lalbagh offers diverse housing options, including thoughtfully built 1, 2, and 3 BHK apartments. These homes are meticulously planned to provide optimal space utilization, ensuring residents have comfortable and stylish living spaces that meet their needs. This project strongly emphasizes modern amenities that elevate the quality of life. From well-equipped fitness centers to recreational areas, swimming pools, landscaped gardens, and children's play areas, residents have many leisure options right at their doorstep. The inclusion of such amenities fosters a sense of community and well-being.
Provident Housing Limited is known for its unwavering commitment to quality, and Provident East Lalbagh is no exception. The use of premium materials, innovative construction techniques, and modern architectural designs reflects the company's dedication to delivering homes of the highest standard. Despite its luxurious features and prime location, the project remains committed to affordability. The starting price of 33.91 lakhs* onwards makes it attractive for homebuyers seeking value for their investment.
Address
Provident East Lalbagh Address is Soukya Road, East Bangalore. It is one of the best areas of Bangalore.
Location Map
A map serves as a valuable tool for location navigation. When examining the Provident East Lalbagh Location Map, it becomes evident how well-connected it is to various parts of the city. The Peripheral Ring Road provides access to the northern region, while the NICE corridor seamlessly connects it to the South, ensuring convenient accessibility from different directions within Bangalore.
Hospitals Near Provident East Lalbagh:
Narayana Hrudayalaya Hospital
Sri Sathya Sai General Hospital
RVM Foundation Humanitarian Hospital
Sakra World Hospital
Apollo Hospital
Schools Near Provident East Lalbagh:
Delhi Public School
Vibgyor High School
Sorsfort International School
Mount Litera Zee School
TISB (The International School Bangalore)
Colleges Near Provident East Lalbagh:
PES University
Christ University
Azim Premji University
Indian Institute of Plantation Management
Symbiosis Institute of Business Management
Malls Near Provident East Lalbagh:
The Forum Mall
Phoenix Marketcity
Inorbit Mall
Brookfield Mall
Ascendas Park Square Mall
Hotels Near Provident East Lalbagh:
Novotel Bengaluru Outer Ring Road
The Oterra
The Zuri Whitefield
Aloft Bengaluru Whitefield
Vivanta Bengaluru, Whitefield
Frequently Asked Questions
1.
What is the exact location of Provident East Lalbagh?
The location of this project is Soukya Road, East Bangalore.
2.
Which are the nearest landmarks close to Provident East Lalbagh?
Nearest Landmark Whitefield, East Bangalore.
Provident Housing Limited - The Reputed Builder
Provident Housing Limited, a renowned name in the Indian real estate industry, is synonymous with innovation, quality, and affordability. It has earned a stellar reputation for its commitment to delivering value-driven homes that cater to a wide spectrum of homebuyers. Its key ethos is making homeownership accessible without compromising quality or aesthetics. The developer specializes in creating residential projects that blend modern design with practical functionality, ensuring residents experience a comfortable and contemporary lifestyle.
The developer understands the diverse needs of homebuyers, and its projects are priced competitively to accommodate different budget ranges. This affordability factor has made Provident Housing a preferred choice for first-time homebuyers and investors. The company adheres to stringent construction standards and uses the finest materials and cutting-edge technology to ensure the longevity and durability of its projects. This commitment to quality has garnered the trust of homebuyers and reinforced Provident Housing's position as a reliable developer.
Its portfolio encompasses many housing options, from compact apartments to spacious villas and integrated townships. The developer's projects are strategically located in key urban centers, offering residents easy access to essential amenities, educational institutions, healthcare facilities, and transportation hubs. Its customer-centric approach places immense importance on transparency and ethical business practices. It ensures that buyers are informed at every stage of the home-buying journey, from project planning to possession and beyond.